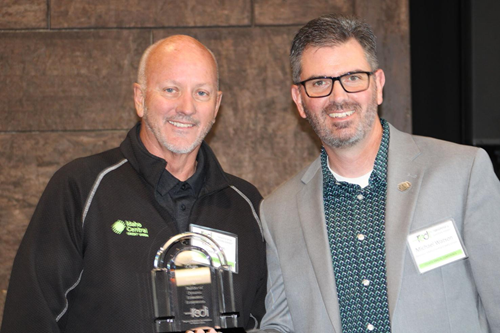 "During this year's "What's Up in Eastern Idaho!" Fourth Annual Conference, REDI presented the "Outstanding Innovator & Builder of Dynamic Ecosystems" to Kent Oram for his ability to take a business and continually improving to reach success; giving back to the communities in which ICCU serves; and supporting and being active in building community and all that entails", states Teresa McKnight, CEO of REDI.

The award was presented to Kent by Michael Watson, Vice President of Marketing at Idaho Central Credit Union and Vice Chair of REDI's Board of Directors.

Kent Oram played a pivotal role in the success of Idaho Central Credit Union. After beginning his career at ICCU in 1984 as the Data Processing Manager, he was quickly promoted through the ranks before becoming the CEO of the credit union. His daily commitment revolved around the mission of helping ICCU members achieve financial success. Kent firmly believed that by prioritizing the happiness of team members, they would provide exceptional service to their members.

This culture of inclusivity is apparent as Idaho Central has been named a Best Place to Work in Idaho for the last twelve years, with seven of those years being in the number one spot.

The list of Kent's accolades is long and impressive. Just this year, he received the Lifetime Achievement Award from GonzoBanker, the ISU distinguished Alumnus Award, and was inducted into the Boise Metro Hall of Fame and the Credit Union House Hall of Leaders.

Last year he was on the Idaho Business Review's Powerlist for the 50 Most Influential Business Leaders in Idaho. He's been named an ICON Award Honoree and Chief Executive of the Year from the Credit Union Executive Society. However, I anyone that knows Kent would say the most inspiring thing about him is his heart. He truly loves Idaho Central and this entire community.

Under his leadership, he brought Idaho Central to the forefront of people's mind when they think of not only banking, but community involvement and acts of service.

This special award was presented for the first time to Frank Vandersloot during REDI's Annual Conference in 2022.