The small modular reactors were to be based at the Department of Energy site west of Idaho Falls
Nov 8, 2023
PORTLAND, Ore. — Utah Associated Municipal Power Systems (UAMPS) and NuScale Power Corporation (NuScale) (NYSE: SMR) announced today that they have mutually agreed to terminate the Carbon Free Power Project (CFPP).
Despite significant efforts by both parties to advance the CFPP, it appears unlikely that the project will have enough subscription to continue toward deployment. Therefore, UAMPS and NuScale have mutually determined that ending the project is the most prudent decision for both parties.
"Through our work with UAMPS and our partnership with the U.S. Department of Energy, we have advanced our NuScale Power Modules to the point that utilities, governments and industrials can rely on a proven small modular reactor (SMR) technology that has regulatory approval and is in active production. Our work with CFPP over the past ten years has advanced NuScale technology to the stage of commercial deployment; reaching that milestone is a tremendous success which we will continue to build on with future customers," said NuScale President and Chief Executive Officer John Hopkins. "NuScale will continue with our other domestic and international customers to bring our American SMR technology to market and grow the U.S. nuclear manufacturing base, creating jobs across the U.S. We thank UAMPS for the collaboration that has enabled this advancement."
"This decision is very disappointing given the years of pioneering hard work put into the CFPP by UAMPS, CFPP LLC, NuScale, U.S. Department of Energy, and the UAMPS member communities that took the leadership role to launch the CFPP," said UAMPS Chief Executive Officer and General Manager Mason Baker. "Yet, this decision is the best course for the UAMPS members participating in the CFPP and doing what is best for those member communities will always be the guiding light in such decisions. We have learned many invaluable lessons during the development of the CFPP that we will carry forward in future development work to meet the future energy needs of the UAMPS member communities. We look forward to continuing to provide innovative and cost-effective new resource solutions to our members, and, at the same time, we hope NuScale is successful in deploying its technology."
Baker concluded, "We are working closely with NuScale and the U.S. Department of Energy on next steps to wind the project down."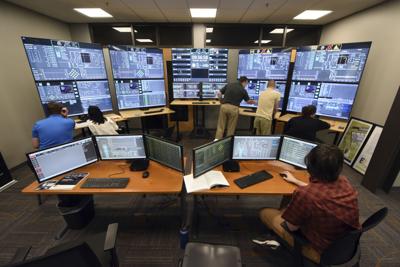 A NuScale representative conducts training on the nuclear power plant control room simulator for students and faculty at the Center for Advanced Energy Studies.
Courtesy of the Center for Advanced Energy Studies