"(By) month six it paid for itself," he said. "So we were like, okay, we've got something here. … So we kept it in June, made it to July. By August, we needed another printer."
That was in 2018. Now, Klassen has expanded that single machine into 16 industrial printers and eight CNC machines and is CEO of 3D printing service provider JawsTec. Located in American Falls, the additive and subtractive manufacturing company offers services in 3D printing, CNC machining and metal fabrication and is one of the largest 3D printing companies in Southeast Idaho. It has grown from printing drone parts to printing airplane parts, agricultural parts, dental devices and has even done orders for SpaceX, Apple and Ford.
"We've done certain things for a lot of automotive companies — Tesla, BMW — and then kind of your wild ones … like stage props," he said. "We've done a Smithsonian display. They had designed and made an organic display and wanted to remove that from the actual Smithsonian and put it into storage. So they had us print the replacement parts so that it was something that didn't get broken. … It was kind of a unique opportunity."
3D printing offers an enticing alternative to traditional manufacturing, he explained. For one, it is highly customizable, which appeals to industries such as health care and aviation. For the medical field, JawsTec prints knee braces tailored with the right dimensions to fit the wearer, providing an item designed uniquely for that individual. They've also printed an airplane part that was previously 38 separate parts, which helps reduce the margin of failure.
"The cost to print it is about $4,000," he said. "It's a very expensive metal print. But the cost to make it in 38 pieces was about $4,000. And now the risk of failure has dropped to basically zero because you don't have any gaskets, you don't have users tightening a screw wrong, or all of these things. It's now a positive thing to move toward the additive manufacturing side. So it's very interesting where certain applications are being used and benefited the greatest."
"The turnaround is unbeatable in that sense," he said. "The injection molding (and) CNC space has obviously been around for a very long time and for high qualities, both of those processes are better than what we are currently doing. But for a lower quality and a highly customized production, our process is unbeatable in that regard."
When JawsTec was first getting itself off the ground, 60 to 70 percent of its orders were overflow for partnering manufacturers. Now, they are running 80 to 90 percent of their own customer parts, and Klassen hopes to double the business's current revenue in the next two to three years and then double that within five years thanks to the industry's expanding market worth.
A report from Grand View Research explained that the value of the global 3D printing market for the year of 2022 was $16.75 billion, and it is forecasted to grow at a compound annual growth rate of 23.3 pecent over the next seven years.
"It is supposed to rapidly blow up," he said. "So hopefully we position ourselves to be part of that growth."
JawsTec's success hasn't come without recognition.
In September, Klassen spoke at the 2023 Eastern Idaho Tech Summit in Pocatello to entrepreneurs, venture capitalists, researchers and many more and shared his story about JawsTec and what they're doing to help other individuals interested in innovation.
"We want to be problem solving for individuals that are looking to innovate and create," he said. "So we're not limiting ourselves to just (business to business), we're helping your customer (who) is trying to solve a problem in their specific industry. For example, there's some old trucks like Peterbilt trucks where their switches started breaking as they got older. So then we've got a customer who has gone and customized his own switches and is making them now, but it's such a specific niche industry that I never would've even considered that to be a market. But he's built a user base … that really wants all these switches and he's doing it all out of his garage. Now he has a business that he has suddenly created from that following … and it's enabled him to quit his job and focus on what he enjoys."
They've also been voted as one of the Top 10 3D Printing Service Providers by Manufacturing Tech Insights and are up for Idaho Company of the Year with two others, including fellow 2023 Eastern Idaho Tech Summit speaker Stuart Draper, who discussed how inspiration drove success for his media company, StuKent.
The event will be held Nov. 14 in Boise.
When asked about how he believes JawsTec has expanded and excelled so greatly in the 3D printing field, Klassen said, "We kind of hit the market at the perfect time where we could provide a more unique experience in manufacturing."
For anyone interested in learning more about JawsTec or using their online quoting engine, visit its website at www.jawstec.com.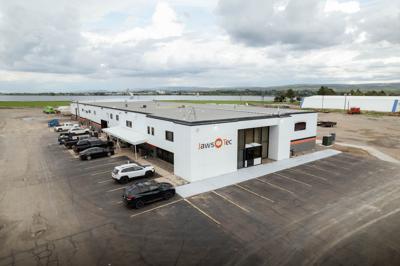 Aerial photo of JawsTec in American Falls.
Photo courtesy of Oscar Klassen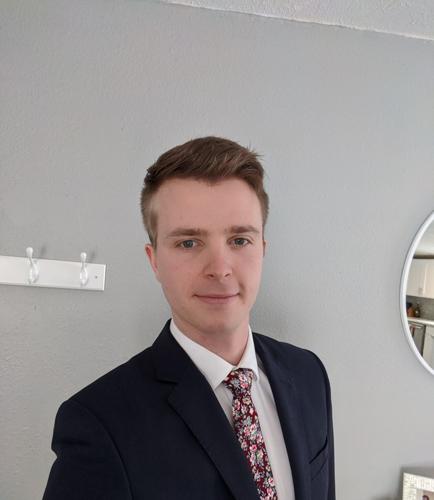 Oscar Klassen, the 26-year-old CEO of 3D printing company JawsTec.
Photo courtesy of Oscar Klassen