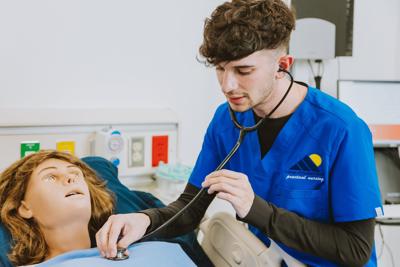 A practical nursing student trains in the simulation laboratory at College of Eastern Idaho's #1 ranked program in the state.
Courtesy College of Eastern Idaho
DAVID PACE dpace@postregister.com
Oct 31, 2023 Updated Oct 31, 2023
The practical nursing program at College of Eastern Idaho has been named the top training program of its kind in the state.
"We really do have excellent graduates," Kirsten Erickson, CEI nursing chairwoman/co-administrator, said. "... We have a first-class institution, here local, that is accessible, affordable, can give them a career that can really make a difference in their life and provide options for them in the future."
For five years running, 100% of CEI's licensed practical nurse (LPN) students have passed the National Council Licensure Examination for Practical Nurses (NCLEX) on their first try to gain the licensure required to work as a LPN.
The college's achievement was noted by PracticalNursing.org, an online platform that ranks LPN programs primarily on how well students perform in their licensure examinations.
"Our PN program has been a hidden gem within our college and community, consistently demonstrating outstanding competency," CEI's Dean of Health and Human Services Angela Sackett said in a news release.
The program teaches students how to "administer oral and intravenous medications, chart medical records, take vital signs, change wound dressings, collect laboratory specimens, monitor patients for changes, perform CPR, care for patients after procedures, assess patients and be supervised by a Registered Nurse," according to the college's website.
"We participate in some extra types of instructional help where students can get a little more exposure to quizzing and testing," Sackett said.
CEI also provides a state-of-the-art simulation lab that was funded with donations from the William J. and Shirley A. Maeck Foundation.
"The students can practice scenarios in a real-life kind of situation, but in a safe place that really lets them have lots of really educational experiences," Erickson said.
Since 2018, CEI has placed 95.26% of all LPN graduates in the workforce.
"The college's placement rates are fabulous," Erickson said. "If you graduate from here and you don't get a job, it's because you don't want it."
In 2023, the median salary for an LPN in Idaho is approximately $50,000, she said, while the median salary for a registered nurse is about $78,000.
"You can have a quick turnaround from the time you start to the time you finish, and you can be out making money," Erickson said.
Once all the prerequisites are completed, the program only lasts two semesters or nine to 12 months.
Currently, 20-30 LPNs graduate from CEI every year.
"We would love to graduate more. I think that this is the best-kept secret that should not be kept at all," Erickson said. "We would love for the PN program to become competitive, but it won't become competitive until we have enough students to completely fill our program."
CEI is prepared to double or even triple the number of graduates in the program.
"We do have the capacity to graduate 60 students per year," she said.
Currently, Idaho has job openings for 2,122 LPNs.
The program provides students with direct experience gaining clinical hours at community hospitals, urgent cares, doctor's offices, long-term health facilities and in home health.
Students interested in becoming an LPN should apply by Dec. 1. Students are required to be Certified Nursing Assistants or take a Nursing 101 course prior to being admitted to the program. The college offers two admittance dates every year, with a second round of admissions due March 1.
The college also offers a LPN to Registered Nurse bridge program, that can help students advance their education and become RNs with an additional nine to 12 months of school after they complete the practical nursing program.
"It's a great route for anyone," Erickson said. "We have very successful students that have taken their prerequisites in high school and are well in the program. They take it through the advanced education opportunities. ... We also have a lot of nontraditional students who are evaluating things, and finding that this is a great job that provides a lot of flexibility, a lot of portability and a lot of security."