by: Mary Boyle, EastIdahoNews.com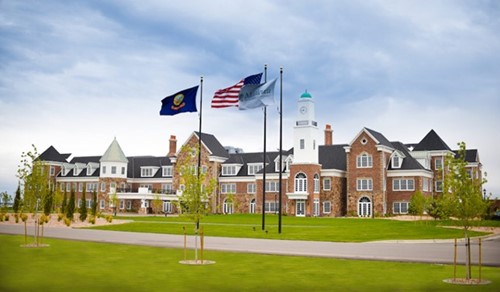 EastIdahoNews.com file photo
IDAHO FALLS — Melaleuca is accepting applications from high school students to attend its free Information Technology IT Boot Camp this summer, according to a news release from the Idaho Falls-based company.
During the five-day workshop, students will learn how to create their own smartphone app and build interactive web pages using a variety of IT tools.
"In previous years, students created apps that were as unique as their personalities," said the news release. Students have built practical apps, such as a schedule manager and a metric-to-standard conversion calculator. Some students have taken a more playful approach; for example, one app matches a person's age to that of various cheeses.
This year's camp is under the leadership of Nathan Birch, a professor of Computer Information Technology at Brigham Young University-Idaho.
Throughout the week, Birch will guide the students as they develop their own apps and web pages, said the release. They'll have the opportunity to get hands-on experience with software like C#, .NET and iOS.
"The students will also attend guest lectures and receive mentorship from Melaleuca's IT directors and team members," according to the release. The program gives students an "inside look" at how Melaleuca uses technology.
Todd Sorenson, Melaleuca Chief Information Officer said in the release that the boot camp was initially created to "help students develop into leaders of innovation while educating them about the exciting and meaningful opportunities within the field of information technology."
"We want more of Idaho's students to be thoroughly prepared for these opportunities," Sorenson said. "And we believe that strengthening their foundation in computer science will serve them in securing rewarding careers in science and technology."
The boot camp will take place from July 24 to July 28 at Melaleuca's global headquarters in Idaho Falls. There will be a morning session from 10 a.m. to 1 p.m. and an afternoon session from noon to 3 p.m. each day. Lunch and snacks will be provided by the company.
As one of the largest e-commerce companies in North America, Melaleuca hopes the event will expand the participants' knowledge and prepare them for a future in IT.
"Based on the high level of interest and students' positivity about this program, we know that many Idaho students are passionate about innovation and technology," Sorenson said. "This has been a fun program, and we are regularly impressed with the previous students' ingenuity and abilities."
This is the fifth year that Melaleuca is holding this community outreach program. Applications are being accepted until May 31. There are only 25 spots available, so if you or a high school student in your life is interested in the IT industry, apply here.
"Applicants will be chosen based on their interest in the IT industry, their experience with computer programming, relevant coursework and their GPA," said the news release.
Reach out with questions by emailing ITBootCamp@Melaleuca.com or by calling Londyn Nye at (208) 534-2224.