By Kalama Hines, EastIdahoNews.com | Posted - Feb. 21, 2023 at 7:23 a.m.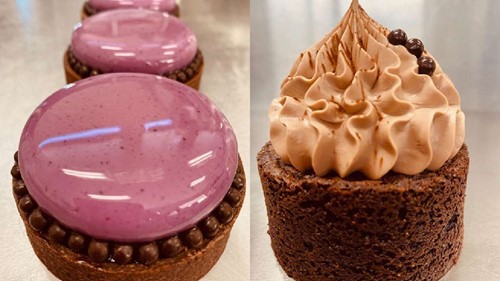 MALAD, Idaho — Just two minutes from I-15, between the Utah-Idaho border and Pocatello, is a bakery that couples the world's finest ingredients and the craftsmanship of an engineer.
Ganache Pastry and Gelato in Malad opened in August 2021 and has been serving its community hand-crafted masterpieces of chocolaty goodness.
Owner Oksana Roth is a graduate of Utah State University with a degree in civil engineering. After spending seven years in the workforce, working on design teams for several water and wastewater projects in Pocatello, she decided she needed to do something she was passionate about.
"I would wake up in the morning and think about what I would be baking if I didn't need to drive to work," she told EastIdahoNews.com.
In 2018, Roth set the development of Ganache in motion.
With her husband, also a civil engineer, Roth designed and constructed the bakery. Working around two full-time jobs, the work took more than three years. But she devised a plan that would allow her to give her business a head start.
"Because it took us a while, we did things as we built the building," Roth said. "We started a cookie delivery business here in town in 2020. … We were very well-received by the community."
Now, just over two years since her business opened, Roth has developed a menu that features her love for baking, combined with her training in engineering.
"I think (my engineering background) does come into play. Very much so," she said. "When I develop a recipe, I think about how things are going to hold together and how they are going to stand up structurally — every single pastry has layers to it."
Roth goes so far as to include a mechanical drawing of each new pastry in the development stage.
Her modernized structural designs of classic pastries are on display, especially in the puff cake and peanut butter mousse cake. The puff cake, she explained, is essentially a cream puff, but is baked to a much taller, sturdier design. And the mousse cake is filled with a soft caramel designed to ooze out and serve as a sauce to the peanut butter mousse and brownie cake when it is cut into.
"All of that goes into recipe development, and I quite enjoy the process," Roth said.
The Ganache menu includes all manner of baked goods, from cookies and cakes to tarts and tortes. She also serves coffee, hot chocolate and house-made gelatos and sorbets.
The recipes, Roth added, are her favorites from years of cooking and eating. The skills are a combination of her engineering background, a love for baking and a three-week pastry course she took in Italy.
Italy is also the original home of one ingredient you will find throughout Roth's menu — hazelnuts. In fact, many of Roth's ingredients are shipped from the Mediterranean.
Roth knew when she hatched the plan for Ganache that she only wanted to use the finest ingredients. So she searched far and wide for those ingredients. That search landed her on Valrhona Chocolate — a chocolate company with its roots dating back to 1922 in Tain L'Hermitage, France.
She also brings the highest quality fruit pastes and butter from France.
"When I switched to Normandy butter, I noticed the difference in the process and in the final product," she said.
Roth has been thankful for the support she has received from her community in Malad. And though she is hopeful her business will grow, she does not plan on leaving the city.
However, she added, Roth has been contacted by companies in Pocatello and Logan, Utah with offers to purchase her products for sale at their businesses.
"I hope we will continue to grow here, locally. … I feel that if we provide good customer service and delicious products, people will keep coming back. That's what I'm hoping we'll do."
As the business grows, Oksana plans on expanding hours. For now though, Ganache Pastry and Gelato — located at 177 East 50 South in Malad — is open Friday and Saturday, 9 a.m. to 4 p.m., and Sunday, 10 a.m. to 4 p.m.