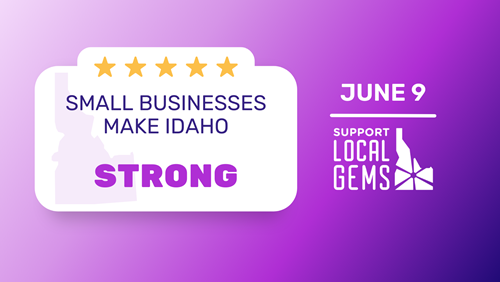 Support Idaho Small Businesses on Friday, June 9, 2023
Small businesses are a huge part of what makes Idaho so special. They are the backbone of our economy; they employ our friends and neighbors; they showcase our state's creativity and values; they provide invaluable goods and services; and they epitomize what makes the Gem State great.
What is the Support Local Gems initiative?
The Support Local Gems initiative is an all-day celebration of Idaho's small businesses. On Friday, June 9, 2023, please join us in supporting small businesses in your community.
Who is involved in Support Local Gems?
Started by U.S. Senator Jim Risch and the Idaho Department of Commerce, Support Local Gems is successful thanks to the help and support of Idaho's chambers of commerce, business associations, elected officials, and ALL Idahoans.          
When is Support Local Gems happening?
On Friday, June 9, 2023, show your love for Idaho's small businesses. But why stop there? Every day is a good day to Support Local Gems! Your support helps to preserve the jobs and local character that make Idaho's communities vibrant.
Why should I support small businesses?
Idaho's small businesses have done an exceptional job adapting to the challenges of the last few years, but these businesses still need your support. Help the local shops, restaurants, and businesses in your community thrive by lending them your support.        
How can I Support Local Gems?
There are so many ways to support Idaho's small businesses, some of which don't cost anything. On Friday, June 9, dine at your favorite restaurant or order takeout, shop in person or online at a local retailer, purchase a gift card, write a positive review for your favorite local business, or just say "thank you" to a business in your community for all that they do.
Download Support Local Gems information, outreach materials, and digital assets here.