DAVID PACE dpace@postregister.com Jun 12, 2023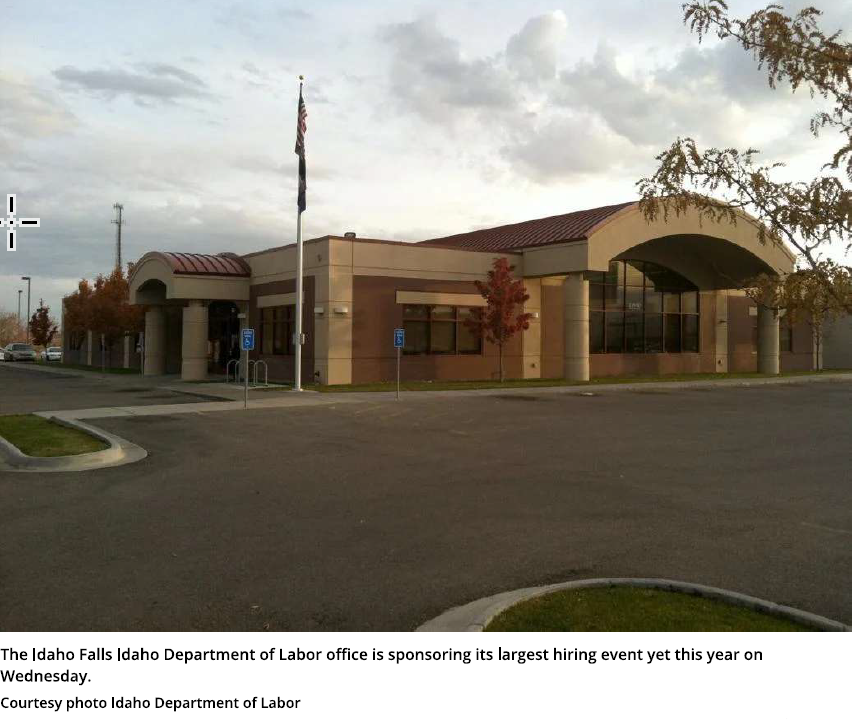 The Idaho Department of Labor will host a "One-Stop Partner Outdoor Hiring Event" on Wednesday from 11 a.m. to 2 p.m. at 1515 E. Lincoln Road.
Thirty major employers will be present at the fair -   including Idaho National Laboratory, Advanced Home Services, Amazon, American Fabrication, Army National Guard, BioTouch, East Idaho Youth Homes, Express Employment, HK Contractors, Idaho Department of Transportation, Idaho Rural Water, JATC Electrical, Mentor Idaho, Melaleuca, Naval Nuclear Laboratory, Premier Technology, Inc., Sage Truck Driving, Bonneville Joint School District 93, Shoshone-Bannock Casino-Hotel, Shoshone­ Bannock Corrections, Tobin Restoration, TruLeap, TSA, University of Idaho, Western Transport and Worksteer Staffing. Union representatives for carpenters, millwrights, iron workers, plumbers and pipefitters unions will also be on hand.
"We took a report of the businesses that had the most job openings," said Windy Hahn, manager at the Idaho Department of Labor's Idaho Falls office. "... We noticed that a lot of those businesses were looking for trade positions, so we started targeting a lot of trade employers. We know that the Idaho National Lab is going to need a lot of trade workers ... We invited a lot of construction trades, but others are invited as well."
Idaho faces a tight labor market with an April unemployment rate of 2.6% statewide. Eastern Idaho's unemployment rate - including Bonneville, Jefferson, Madison, Fremont, Butte, Clark, Teton, Custer, and Lemhi counties - is 2.3%, a 0.1% decrease from March, said Ryan Whitesides, a labor economist for the Idaho Department of Labor in an email with the Post Register.
"That's the biggest barrier right now, is there's not enough applicants," Hahn said.
Wednesday's hiring event will be held outdoors in the Idaho Department of Labor's parking lot.
"In this tight labor market, it's incumbent upon the job seeker to research information and to experience the job networking landscape. The regular hiring events at the Idaho Department of Labor allow the job seeker both benefits," Whitesides said. "These programs and services are designed to help citizens earn more and thereby do more with earning power to improve their station in life. The hiring event ... is the largest anticipated hiring event of the year in the region so far."
Eastern Idaho had approximately 1,100 job postings listed in April, Whitesides said.
"Registered nurses once again assumed the lead of top occupations in the region with active job postings," Whitesides said. "Retail salespersons and customer service reps emerged in the top half of occupations in April. The high demand for retail supervisors, tractor-trailer drivers, freight/stock/material laborers, wholesale/manufacturing reps carried over from last month.... Cashiers, electrical engineers, and food service managers broke through as new in-demand occupations on the current list."
The Department of Labor's Idaho Falls office has resources to help job seekers identify career paths and work with partners to gain the qualifications needed for those jobs.
Job seekers are encouraged to wear professional attire, bring multiple copies of their resume, and leave children at home if possible.
"Just walk up to the employers, and find out what they're looking for," Hahn said. "Smiling goes a long way. A good handshake goes a long way."