Idaho State Journal - JOURNAL STAFF Jun 5, 2023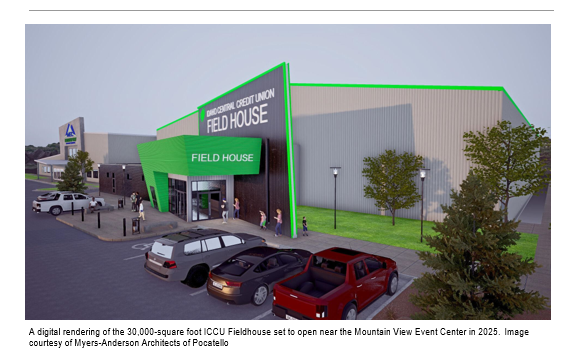 POCATELLO — The Mountain View Event Center, or MEC, has plans to build a large indoor turf facility on the city's north side thanks to an investment from Idaho Central Credit Union.
MEC officials plan to break ground on the facility, which will be over 30,000 square feet and named the ICCU Fieldhouse, in spring 2024. The community should be able to put it to good use as early as spring 2025, according to a news release from MEC Executive Director Raul Cano.
Much like how the MEC is operated, the Pocatello-Chubbuck Auditorium District will operate the new facility, which will be located directly adjacent to the MEC, 1567 Way to Grace Ave.
"The field sports teams in our community have always been at a competitive disadvantage for lack of a four-season, indoor practice facility," Cano said. "We're thrilled that Idaho Central Credit Union is making an investment in our community's youth and the sports that are so important to their health and development. The new ICCU Fieldhouse will be a boon for the area's soccer, baseball, softball, football, and lacrosse teams. No longer will the teams in our area go into spring season without having been able to practice over the winter months."
According to MEC Director of Operations Shelton Robinson, the facility will feature over 30,000 square feet of turf space and that additional features will be decided in the design and budget process.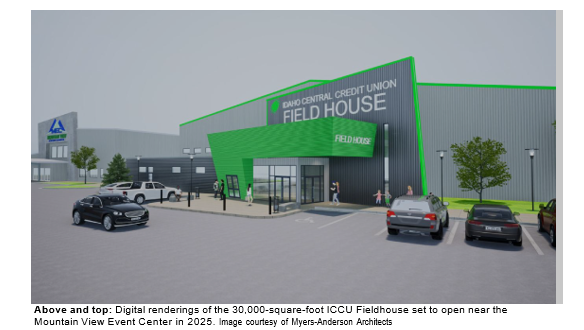 "Like the MEC itself, this new facility will be multiuse," Robinson said. "We'll be able to expand on events we already host, such as trade shows, dance and cheer competitions, wrestling tournaments and gymnastics, and it will enhance our ability to bring field- oriented events to the community."
Robinson continued, "Our plans are for this to be a turnkey facility, ready for use from the first day. There won't be any phased-in additions. Teams will be able to book the facility and have a first-rate practice venue from day one."
Michael Watson, chief marketing officer for Idaho Central Credit Union, pointed to the auditorium district's successful record in managing the Mountain View Event Center as a key factor in its decision to support the new facility, Cano said.
"The credit union looks for opportunities to invest in the quality of life in our community where it can have confidence the investment will be managed for the long- term benefit of the community's residents," Watson said. "The auditorium district has done a phenomenal job managing the Mountain View Event Center to be a real asset for the community. We couldn't be more excited to invest in this new and much-needed facility."
Cano added that there will be opportunities for additional facility sponsors.
"While the Pocatello-Chubbuck Auditorium District and Idaho Central Credit Union are meeting the bulk of the upfront financing required, up to $1 million in additional sponsorships may be made available to ensure the facility is first-rate in every respect and built to meet the community's needs for the long term," Cano said. "We're certainly open to discussing sponsorship opportunities with area businesses and we'll make sure they receive great exposure for their investments."
Myers-Anderson Architects of Pocatello is designing the facility. Competitive bids will be accepted from qualified contractors when full specifications are available.