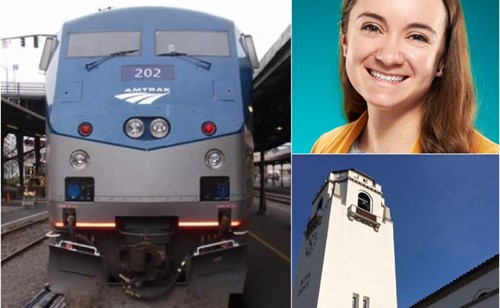 Bre Brush is transportation advisor to Boise Mayor Lauren McLean
Somedays, it's good to be cautious. But Bre Brush, chief advisor on transportation at Boise City Hall, says there are other days when it's "full steam ahead" in the effort to bring Amtrak service back to Southern Idaho and link it to Salt Lake City.
"If we're selected, we get $500,000 to develop a service development plan for the corridor," she said. "And that piece will help us answer so many of the questions that we've been getting, like how much it will cost the economic benefit, where stops will be, the frequency, station improvements that we need, things like that."
Brush visited with Morning Edition host George Prentice to update listeners on what's next – an opportunity for the public to weigh in on the possibility.
Read the full transcript below:
GEORGE PRENTICE: It's Morning Edition. I'm George Prentice. Good morning. Last fall, we brought you the story of how Boise may… may… lure Amtrak back with a bit of help from Salt Lake City. That got a lot of people's attention. So, it's worth our time to pull into that station again this morning with Bre Brush, chief adviser on transportation in the mayor's office at Boise City Hall. Bre Brush, good morning.
BRE BRUSH: Good morning, George. Thanks for having me.
PRENTICE: Okay. Let me see if I remember this right. There's something called the Corridor ID program. And in particular, we're talking about the corridor between Boise and Salt Lake City. And then there's this unique joint effort between Boise and Salt Lake to push or pull Amtrak to consider returning service to our region. Is that it in a nutshell?
BRUSH: Yes, that's exactly right. So, this is an effort we've been working on since early last year. Mayor McLean, at a mayor's conference, had the opportunity to get together with the CEO of Amtrak, and he let her know that this new program was coming out related to passenger rail service and that he had heard interest from Salt Lake City on a connection between Salt Lake and Boise. So, the mayor took that and she met with the mayor of Salt Lake and sat down with her to just figure out ways our two communities can connect and passenger rail service being among them. The new opportunity through the corridor ID program that was established in the bipartisan infrastructure law is perfect for that. It's going to help create a pipeline of projects for rail for the Federal Rail Administration. So, we get this funding opportunity to look into it and see what the viability of this route would be.
PRENTICE: Well, on more than a few occasions, I've been called a wonk. So, let's hear about process and where you are with that.
BRUSH: Yes. So last summer we worked really hard with a lot of community leaders along the corridor from really Caldwell to Salt Lake City to put together an expression of interest. And this expression of interest was a way for us to raise our hand, to show the Federal Rail Administration that we are interested in restoring passenger rail service between these communities. And that was the first step. That was the beginning conversation to preview the corridor with them and for the FRA to share with us what the funding opportunities would be. So, we did that expression of interest. It had over 30 sign-ons, cities of all sizes, universities, economic development organizations, anybody along this corridor from Caldwell to Salt Lake that was interested in learning more. So, we finished that. And then now that the application itself is actually open for the funding for Corridor ID, we will have to put together a corridor narrative. And that narrative would include where it starts and ends and then letters of support. We have any work that's been done on the corridor or things like that that would show FRA we are ready for the next step, which would be just moving forward in the planning process.
PRENTICE: So, might there be an opportunity for the public to weigh in on this any time soon?
BRUSH: Absolutely. We really need the public's help building out the story that we're sharing about the potential for this corridor. We know so many people have have stories, have experiences with riding the train or what they believe a train could mean for them. Trains, connecting families, trains connecting communities. We want to hear what people have to say about that. So, any resident, any community member who hears this and wants to share a story that we could potentially use in our application can email me at MovementforEveryone@CityofBoise.org.
PRENTICE: And anecdotal. Right.
BRUSH: Anecdotal. Anything. What experience you've had if you rode the train when it was through Idaho before or if you feel like this would be a huge asset to you, just tell us what that train service would mean to you.
PRENTICE: Can you give us some idea of what the calendar looks like, either hard dates or soft dates, even approximate dates?
BRUSH: Yes. So, the application opened in December. And right now, we're in the early stages of working with our partners in Salt Lake to determine who will participate between our corridor, what mayors will have involved, what community leaders need to be involved in building out that narrative that I referenced before. And then the application closes. In March, at the end of March, and we'll know if we're selected probably by early fall. And if we are selected, we get $500,000 to develop a service development plan for the corridor. And that piece will help us answer so many of the questions that we've been getting, like how much it will cost the economic benefit. Where will stops be, the frequency station improvements that we need, things like that. So, this this application is a really big step in getting that funding and making sure we can get started on a plan.
PRENTICE: And if we get that far, that's where we start talking even anecdotally about possible ridership.
BRUSH: Yes. So that service development plan can include projections for ridership. And what's really great about this is we can access this $500,000 through this grant program to answer these questions, and we don't have to expend any of our own funds or state funds to seek these answers.
PRENTICE: Well, I'm impressed, again, that our listeners can weigh in on this. Can you give us that email address one more time?
BRUSH: Yes. Yes. So, if you have a train story, you want to share an experience riding the train. We want to lift those stories up in our application and would ask that you email them to movementforeveryone@CityofBoise.org.
PRENTICE: She is Bre Brush, a special advisor on transportation to the mayor's office at Boise City Hall. It sounds as if things are well, we're not saying they're going full speed, but they're certainly they're moving forward.
BRUSH: You can say full steam ahead.
PRENTICE: Okay. One of us can. She is Bre Brush. And we look forward to a number of conversations on this topic in the weeks and months ahead. But for now, thanks for giving us some time this morning.
BRUSH: Thanks, George.
Copyright 2023 Boise State Public Radio