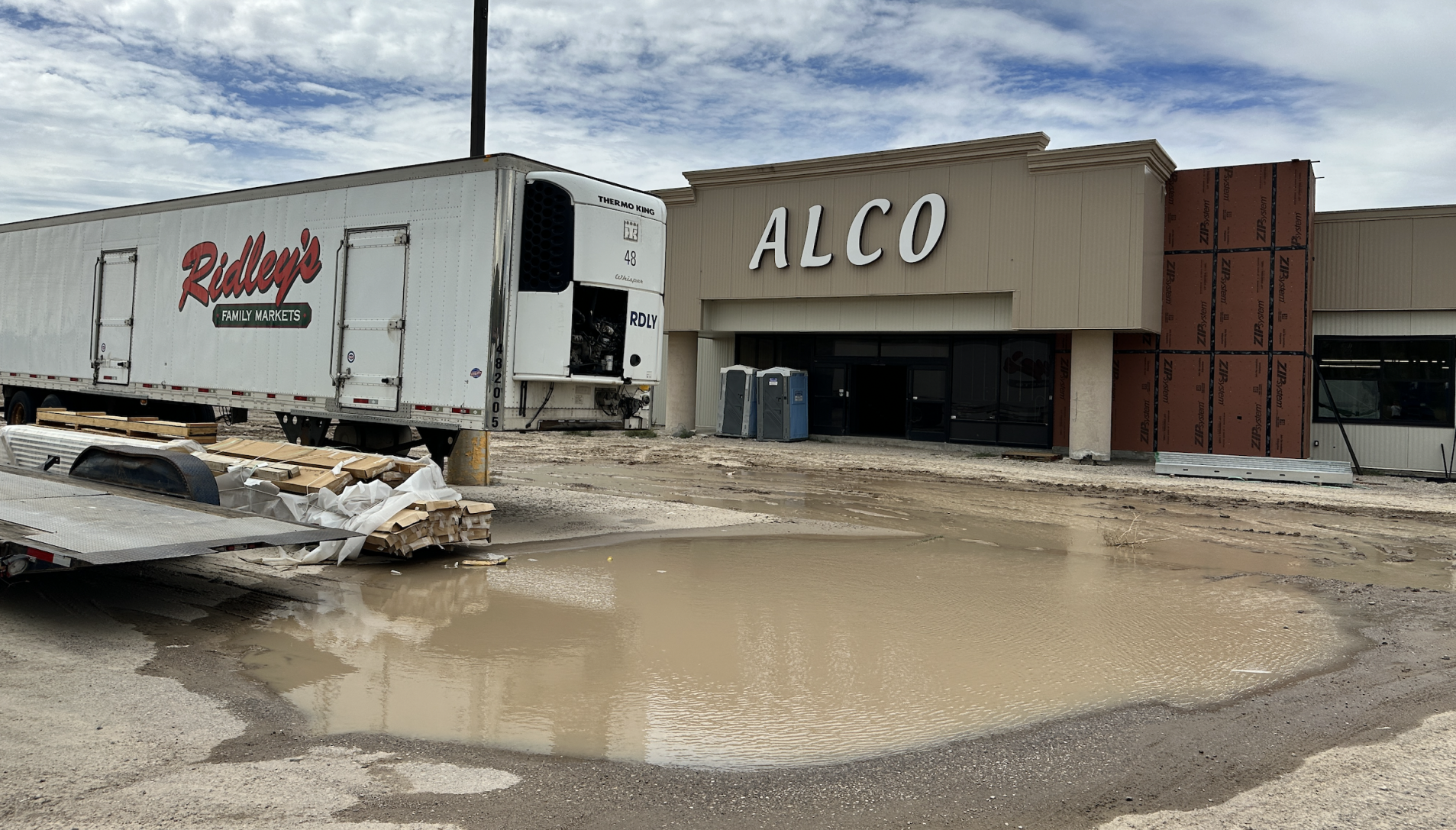 The future home of the Ridley's supermarket on Pocatello Avenue in American Falls.
Stephanie Bachman-West/For the Journal     Aug 22, 2023 Updated Aug 25, 2023
AMERICAN FALLS — Several long-vacant buildings and lots within American Falls are undergoing developments that will bring apartments, a grocery store and potentially a gas station to the city.
Down the street from the new Valley Wide Cooperative building a Ridley's supermarket will be opening its doors later this year, with an opening date estimated to be sometime in November or December, said Mark Ridley, director of operations for Ridley's Family Markets.
Ridley explained it will be a full-service supermarket which includes a scratch bakery department, a full-service meat department, a walk-in beer cave, a large deli, a pharmacy, and a full-size Arctic Circle restaurant.
It will also offer "the largest produce department in the area" and both the pharmacy and Arctic Circle restaurant will have drive-thru options for the convenience of guests, Ridley said.
"We have wanted to bring a Ridley's supermarket to the American Falls community for a while and we are excited to be able to do that now," said Jerry Ridley, founder and CEO of Ridley's Family Markets. "Our business has become successful by having a great team of people in our stores offering the type of service that a community would expect from a locally owned and operated business but also surprising our guests with the prices, quality and value they might think they need to go to a larger national chain for."
Located at 2827 Pocatello Ave., the current building is getting a 10,000 square foot boost in size and will clock in at 35,000 square feet upon the supermarket's completion. While they are not currently hiring, Mark Ridley said they plan to employ roughly 100 people at the American Falls location when fully staffed and will be posting open interview times closer to the store's opening date. Online applications are also welcome and those interested can visit www.shopridleys.com/jobs to learn more.
Two separate apartment developments are also currently underway at varying stages of progress. Falls Investments' townhomes are open for lease on Hillcrest Avenue for $1,495 per month. Each unit offers 1,300 square feet, three bedrooms, two and a half bathrooms, a garage and all new appliances.
Gordy Brown with Falls Investments explained that there are currently two townhomes available but more will be on the market once construction on several others is completed over the next few months. Anyone interested in checking out photos and details about the townhomes can visit https://pocatellops.com/property/117-hillcrest-ave/
In addition to the Hillcrest townhomes, the red brick building at 243 Roosevelt St., purchased by BB&T Rental Properties, is also getting work done that will bring more than 30 units to American Falls.