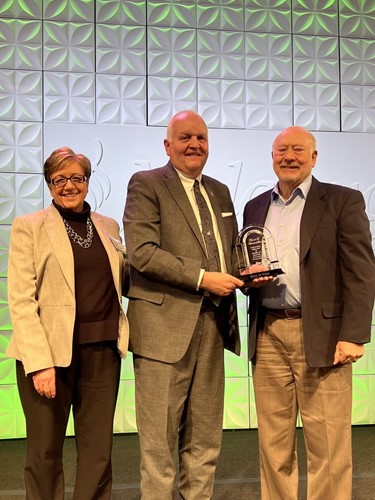 From left to right: Teresa McKnight, CEO of REDI; Scott Reese, Chair of REDI's Board of Directors; Frank VanderSloot, CEO and Founder of Melaleuca
IDAHO FALLS, ID -- (October 22, 2022) – During the "What's Up in Eastern Idaho!" Third Annual Conference, Regional Economic Development for Eastern Idaho (REDI) presented a special award to Frank VanderSloot, CEO and Founder of Melaleuca.
Scott Reese, Chair of REDI's Board of Directors, stated, "Today we are presenting a special award – the first award of its kind to Frank VanderSloot, CEO and Founder of Melaleuca." Reese went on to say, "As the CEO and Founder, Frank has developed Melaleuca into one of the largest privately held companies in the state of Idaho, generating over $2 billion annually, employing more than 5,000 employees in 20 countries, and generating 400 nutritional, pharmaceutical, personal care and household cleaning products across the globe."
Chair Reese sited what led to REDI's decision to present this special award:
2018 GDP, Melaleuca contributed $1.166 billion in benefits to Idaho's economy, with over $1 billion coming to Eastern Idaho.
In 2018, Melaleuca created 7% of the jobs within Bonneville, Jefferson, and Madison Counties.
Melaleuca built its new 355,000 sq. ft. headquarters in Bonneville County and donated $2.3 million to expand Shelley's sewer system.
Frank created the largest Independence Day fireworks show west of the Mississippi – the Melaleuca Freedom Celebration – honoring the sacrifice of our soldiers, veterans, and their families.
Frank and Belinda restored the historic New Sweden Schoolhouse for $2million - donating its use to the American Heritage Charter School.
When a fundraising campaign to renovate the old McDermott Field fell short, Idaho Falls nearly lost its Minor League Baseball team, the Idaho Falls Chukars. Frank personally stepped up to the plate with a $600,000 donate to save the project. Thanks to his generosity, families experience baseball in one of the most beautiful stadiums in the country.
Earlier this year, Melaleuca donated $51,500 as the final amount needed for the Community Food Basket to buy their large food storage warehouse. Now that this nonprofit no longer has a mortgage payment, it uses the $3,000 to buy more food for families in need. Melaleuca has been the financial sponsor of many food drives that repeatedly fill up the food banks.
Melaleuca donates financial resources, products, and other humanitarian supplies to support victim of natural disasters. Three weeks ago, immediately after Hurricane Ian, Frank loaded up the Melaleuca jet with 34 generators and other supplies and flew them to Naples. He organized a team of people to go into the hardest-hit towns and deliver the generators and supplies to those suffering from the storm.
After Hurricane Katrina, Frank flew to New Orleans and went to a shelter in the Lower 9th There, he met a family of four who had lost everything. Although they were complete strangers, Frank offered this family an invitation to come to Idaho and live with Frank. The VanderSloot's and the Crawford family lived together in the same house for the next two years. Frank helped them find work and they stayed with Frank and Belinda until their home was rebuilt in Louisiana. These families remain close friends.
When the cheese factory in Blackfoot announced its closing – the impact would have left 115 family-operated dairies with nowhere to send their milk - putting nearly 825 people out of work. The milk producers met with Frank and Frank went to work and paid $2 million out of his own pocket to the farmers for their milk, then he bought out the Texas partners and invested another $2 million more in the factory. Because Frank cares about local people, hundreds of families in Southeast Idaho were able to keep their homes and farms and jobs intact. Today, business at the cheese factory in Blackfoot is booming. Chair Reese mentioned he was mayor of Blackfoot at the time this happened. Not only were all the dairy farmers made whole, but the families employed at the plant kept their jobs and their homes.
Teresa McKnight, CEO of REDI states, "We cannot thank Frank enough for his heartfelt contributions, many made in private, across our region. We feel there is no better time than today to award Frank with REDI's Outstanding Innovator and Builder of Dynamic Economic Ecosystems Award. Frank is a great role model, true innovator, and builder of ecosystems - systems that make the Eastern Idaho region a great place to live and work."