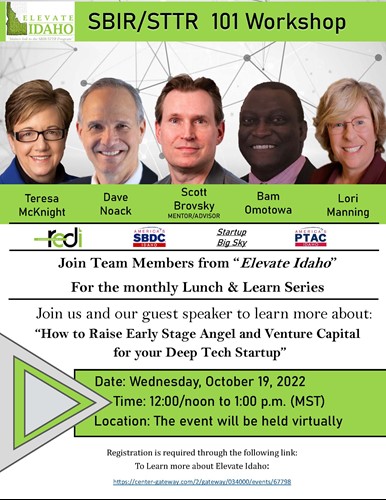 Please join the Elevate Idaho Team for our monthly SBIR/STTR Lunch & Learn Series. Our guest speaker is Scott Brovsky. Scott will present on "How to Raise Early-Stage Angel and Venture Capital for your Deep Tech Startup".
Brovsky is an angel investor and startup mentor. He is also a Founder/Founding Executive of a number of startups including the VC funded mobile games studio Multi Labs, the Temecula based sports tech company NZN Labs/LIT Pro. Also, he sold his first company, Industrial Strength Network (an early interactive agency), to frog design as an acquirhire in 1998.
Scott was part of the global leadership team at Disney that worked for three years to build The Avengers franchise into a global powerhouse with his focus being the interactive games space. He led the successful launch of Avengers Alliance on Facebook and Avengers Initiative on mobile - with 40 million plus people having played the game - a hit with the fans and critics.
You can register by clicking on the following link:  https://center-gateway.com/2/gateway/034000/events/67798
You will not want to miss this month's workshop on October 19, 2022 - 12:00/noon (MST).