In an age of growing cyber aggression, Idaho National Laboratory is taking a page from an old, old book. "If you know the enemy and know yourself, you need not fear the result of a hundred battles," the ancient Chinese general Sun Tzu wrote in "The Art of War." 
At its 2022 Cyber Summer Camp, INL's Cybercore Integration Center and local education partners gave Idaho high school students a weeklong course in how to think like hackers. The point is not to train future hackers, but develop experts in defense and security, said Michael Haney, who led the "Hacked – The Next Level" advanced classes in Idaho Falls in early August. 
"I get excited ‒ and a little nervous ‒ teaching them about hacking," he said. "We don't want anyone going over to the dark side. Instead, I want to stress the dangers that are out there." 
The Cyber Summer Camp program introduces junior and senior high school students, along with local Career and Technical Education teachers, to cybersecurity and related topics. Students participate in hands-on learning activities, hear from industry mentors and tour industrial facilities. The program is in its seventh year and is a collaboration between INL's Cybercore Integration Center and STEM K-12 program, University of Idaho, College of Eastern Idaho and Idaho Falls School District 91.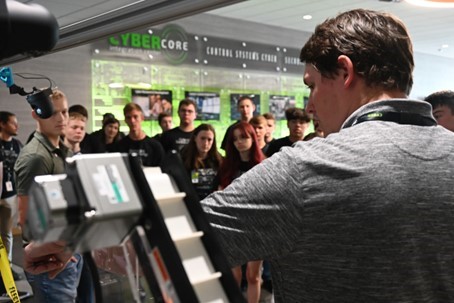 INL cybersecurity summer interns, Jack Hall and Cade Williams, give participants a demonstration of an industrial control system during their tour of INL's Cybercore facility.
The weeklong beginner's course was held in July at four Idaho locations: Idaho Falls, Twin Falls, Boise and Lewiston. The advanced course was limited to Idaho Falls and Twin Falls, but opportunities for expansion are growing every year thanks to grants from organizations such as the Idaho Cybersecurity Education Initiative. 
One thing is certain. Saboteurs and bad actors are using the internet to create chaos and crime. On top of that, systems must be guarded and secured against threats from nature. Trained cybersecurity professionals are needed at every level. 
"I would like to see more diversity in the field beyond the stereotypical computer nerd," said Tiffany Fuhrmann, an INL intern pursuing a master's in cybersecurity. "We need people who've studied psychology, ethics, languages. People who are good with their hands." 
Fuhrmann taught high school in Texas for 20 years before becoming interested in a cybersecurity career. "There are 700,000 jobs out there waiting to be filled, at all levels. The best message these kids can get is there's a place for them." While learning new cybersecurity skills, INL interns said the camps – especially the beginner camp – gave them insight into younger students. Taegan Williams, pursuing a master's in cybersecurity at University of Idaho, attempted to block a lot of beginners trying to hack games. "Our blocks did not work," he said, adding that he never caught anyone gaming when they were supposed to be paying attention in class. 
Former high school teacher and INL cybersecurity intern, Tiffany Fuhrmann, explains to students how the cybersecurity field needs students from diverse areas of study.
"Our goal is to inspire them more than educate them," Haney said. "Some of the best people I've met in this job were not good students. They were bored in class and wanted to learn about it their own way. They come to cybersecurity, and they're not bored anymore." 
With help from the Cybersecurity Education Initiative, Haney is creating a lab at the University of Idaho's satellite campus in Idaho Falls where students feel free to create. "Some of them are just gamers who love computers," he said. "Most of them are self-taught. We need all of them." 
Using Raspberry Pi, a single-board, low-cost, high-performance computer, Haney said he has seen students build impressive things such as Alexa interfaces, alarm systems and password checkers. "I'm impressed every week," he said. "At the end of camp, I always ask, 'How many of you learned something new?' Every hand goes up." 
Jana Richins, Cybercore's Workforce Development Coordinator, said they plan to expand the camps even more next year. The numbers have been encouraging. This year, the beginners' camps had 32 students enrolled in Idaho Falls, 18 in Twin Falls, 31 in Boise and 25 at Lewis-Clark State College in Lewiston. The number of girls is increasing as well. Last year, there was one in beginners' camp and none in the advanced. This year, there were six in the introductory camps, and five in the advanced. 
"I think they've gotten a lot of good information and learned a lot," said Cathy Owen, of Idaho Falls School District 91's Career and Technical Education Center, which offers opportunities for dual credit, industry certifications and internships. "INL's Cybercore has been really supportive," she said. 
For more information, visit: https://inl.gov/cyber-camps/.
About Idaho National Laboratory
Battelle Energy Alliance manages INL for the U.S. Department of Energy's Office of Nuclear Energy. INL is the nation's center for nuclear energy research and development, and also performs research in each of DOE's strategic goal areas: energy, national security, science and the environment. For more information, visit www.inl.gov. Follow us on social media: Twitter, Facebook, Instagram and LinkedIn  
Published on Oct. 14, 2022.