By ILEANA HUNTER ihunter@postregister.com   Nov 28, 2022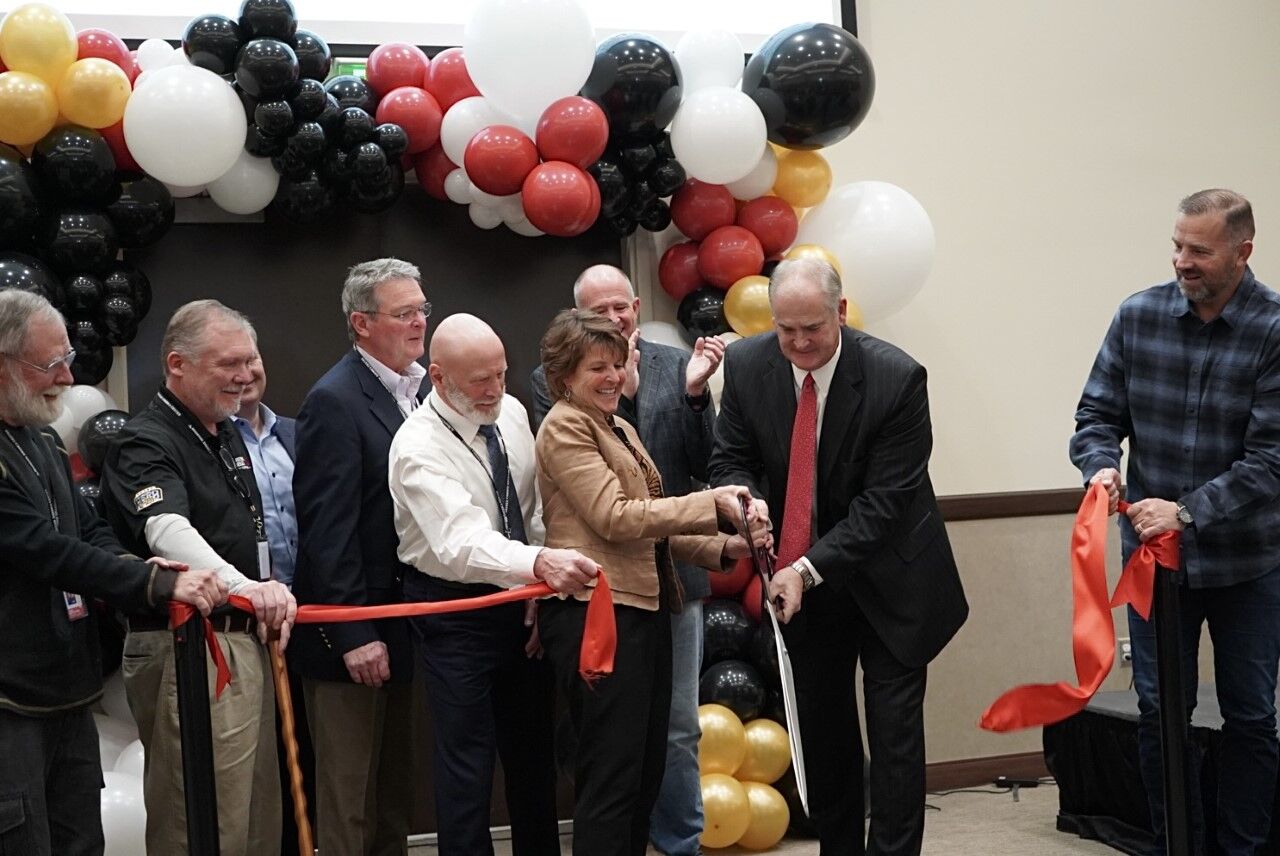 Several members of the Mountain America Center's board, center partners and board members of the auditorium district cut the ribbon in celebration of the grand opening.
A large crowd celebrated the grand opening of the Mountain America Center on Monday with more than 500 people attending the highly anticipated and long awaited event.
"As I was driving up, I was remembering, it's been several years ago that I was approached with the idea of putting our name on this building ... fast forward and here it is today," said Sterling Nielsen, president of Mountain America Credit Union. "This is truly something that the community can be proud of."
Hundreds of people filled the Blue Cross of Idaho Conference Center to celebrate its completion as well as the completion of the Mountain America Center and the Hero Arena, all of which have been in the works for several years in Idaho Falls.
"A lot of people thought we weren't going to make it but we did it, we made it," said Rob Spear, executive director of the Idaho Falls Auditorium District. "And when I say we, I mean an inclusive we."
Everyone from Spear's wife to the project's hoteliers and board of directors, the many partners of the center, construction teams and the public were thanked for their support and involvement in completing the city's newest event center.
"The return on all of your investments starts on Wednesday," Spear said. "We had such a blend of intelligence and a blend of people that disagreed at times but we all came together to accomplish this wonderful project."
The Idaho Falls Auditorium District was formed in June 2011 with the goal of building the city's first-ever multi-purpose event center. The district is a self-funded public board, tasked with raising funds for the event center. The project was funded by a 5% bed tax on hotel room and short-term rental bookings and private fundraising.
"This is a day for celebration everybody ... and now is the time for everyone in eastern Idaho to take ownership and add their contribution," said Terri Gazdik, Idaho Falls Auditorium District board member. "Support the facility, attend performances, cheer for our Spud Kings hockey team, buy a jersey ... it's time now to make the facility your own."
A few years after the creation of the auditorium district, Ball Ventures/Snake River Landing donated a 22-acre parcel for the event center in 2018. Ball Ventures, an Idaho Falls-based real estate investment and development company, was founded in 2002 by businessman Allen Ball.
Ball had always dreamed of an event center such as this one, where the community could gather together, said Cortney Liddiard, CEO of Ball Ventures.
The Mountain America Center has 27,000 square feet of arena space in the Hero Arena, 11,000 square feet of meeting space in the Blue Cross of Idaho Conference Center, can hold 6,000 guests and with the Silver Star Communications partnership, the center will be able to support 12,000 devices on its Wi-Fi network.
City and center officials broke ground for the event center in 2020 and have dealt with numerous setbacks such as the COVID-19 pandemic, supply chain shortages, workforce shortages, design changes and funding complications but continued to push forward.
Construction began in 2021, a year after ground broke for the center.
"Could we have asked for anything else to slow this project down?" Gazdik said "We sat back, addressed the areas that we could control and we waited for the world to recover ... I've learned that nothing worth doing is done quickly."
Construction crews continued to work during the grand opening celebration in order to complete the arena by its first event on Wednesday, a Big and Rich country music concert.
"The facility was close to being buttoned up and we received some unexpected and confusing information but rather than dwell on the problem, they mobilized resources and went into action," Spear said.
While work was continuing in the arena, hundreds of people made their way through each of the facilities, danced to music, learned about the building's capabilities and received opening day gifts from the center's employees.
Concession stands were open for guests to sample food that will be available for purchase during events, the Bingham Healthcare box office sold tickets for upcoming events, and guests took pictures on the Zamboni and met the Spud Kings players.
"This is the culmination of a lot hard work, vision, perseverance and belief that started with Allen wanting to give back to the community, re-develop an eye sore and create a place that the community could gather," Liddiard said.
"Today marks the end of one journey but the beginning of another one. The Mountain America Center will serve our region for generations to come, enhancing lives, boosting the economy and serving as a place where we can come together as a community."