Idaho National Laboratory is distributing this news release on behalf of the Center for Advanced Energy Studies.
CAES news release
Nov. 8, 2022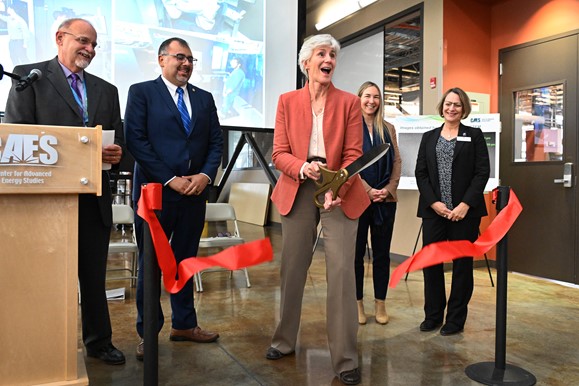 Marianne Walck, INL's deputy laboratory director for Science & Technology and chief research officer, cuts the ribbon at a ceremony marking the installation of new equipment at CAES on Monday. Standing by, from left, are CAES Director Philip Reppert, CAES Associate Director for Boise State University Dave Estrada, Boise State Vice President of Research and Economic Development Nancy Glenn, and Boise State Dean of the College of Engineering JoAnn Lighty.
IDAHO FALLS, Idaho — The Center for Advanced Energy Studies (CAES) hosted a ribbon-cutting ceremony on Nov. 7 to highlight the addition of cutting-edge equipment at the CAES facility in Idaho Falls. This new equipment consists of a scanning transmission electron microscope and a 3D metal printer, both of which significantly strengthen the advanced materials research capabilities available to Idaho National Laboratory (INL) and the CAES universities. 
The microscope, a ThermoFisher FEI Spectra 300, is among the most advanced in the nation. It can provide ultra-high resolution that allows researchers to capture the behavior of dynamic materials in harsh environments such as the core of a nuclear reactor. It serves as the centerpiece of CAES' Microscopy and Characterization Suite, led by Boise State University, and expands opportunities for collaboration between the CAES universities and INL in several mission areas while complementing INL's advanced manufacturing strategy.
The 3D metal printer, an Open Additive PANDA, is capable of printing structural materials for extreme environments. Its addition is the result of an award from the U.S. Department of Energy's Nuclear Energy University Program for a project led by Boise State University faculty member Mike Hurley. The printer is the centerpiece of CAES' new Advanced Manufacturing Suite, which contains approximately $1.5 million in equipment. The suite accelerates and supports INL's research and development into advanced manufacturing as well as its partnerships with academia, industry, federal agencies and national laboratories through the Nuclear Science User Facilities network.
About CAES
The Center for Advanced Energy Studies is a research and education consortium between Idaho National Laboratory, Boise State University, Idaho State University and University of Idaho.
About Idaho National Laboratory
Battelle Energy Alliance manages INL for the U.S. Department of Energy's Office of Nuclear Energy. INL is the nation's center for nuclear energy research and development, and also performs research in each of DOE's strategic goal areas: energy, national security, science and the environment. For more information, visit www.inl.gov. Follow us on social media: Twitter, Facebook, Instagram and LinkedIn.