Commercial real estate defining East Idaho businesses
By JEANNETTE BONER For the East Idaho Business Journal
Jan 23, 2022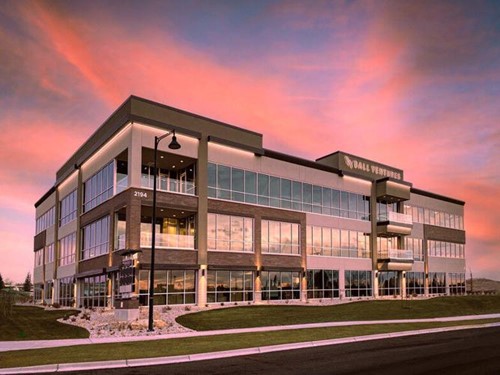 The Knolls at the Snake River Landing in Idaho Falls is a stunning, newly constructed, 61,330-square-foot office space that will realize strong leasing as tenants who had transitioned to working from home during the pandemic move operations back to the office spaces and out of state businesses look for the kind of construction and amenities offered with this kid of project.
In early 2020, Brent Wilson made a public prediction. As the pandemic was emerging as a formidable foe against economic health and industry, Wilson said commercial real estate growth in East Idaho, specifically in the Idaho Falls area, "showed no signs of slowing down."
He was correct.
"The year 2021 was a record year companywide," Wilson said. "What we have seen with the pandemic was a lot of fear around the stock market and, in turn, buyers sought to invest in commercial real estate."
Wilson is a partner at TOK Commercial in Idaho Falls, one of five TOK offices in the state. He along with four other brokers — including his brother Brian Wilson as well as Dustin Mortimer, Darren Puetz and Nick Terry — represented parties involved in many of the $83 million in commercial real estate transitions in 2020. That was a 45 percent increase over 2019 and a 67 percent increase over 2018. That year revealed a growing retail market as Idaho Falls saw Costco open in August 2020, and the Alturas Academy purchased the former Sears space at the Grand Teton Mall.
The mall also will soon welcome Dick's Sporting Goods, according to the mall's website, which says it's "coming soon."
As TOK brokers round the corner into 2022, they are looking back at 2021 and anticipating much of the same patterns of growth.
"COVID has strengthened investors' desire for commercial real estate investments," Brent Wilson said, adding that TOK works with businesses across the nation and has noted a high interest in East Idaho properties, particularly from buyers out of the state of California.
The 2021 fourth-quarter report reflected total retail transactions in East Idaho increasing by 33 percent since the second quarter in 2021 with the largest East Idaho transaction: the 65,000-square-foot commercial space that formerly held Smith's grocery store at 400 Woodruff Ave. in Idaho Falls. That building now houses Big Deal Outlet, a liquidation retail store offering deeply discounted products including groceries.
"Forbes has been writing articles about how great Idaho is," said Wilson of the kind of nationwide attention the Gem State has been attracting. "And we see investors shifting away from the stocks and securities and earning a better rate of return in the real estate market that is a tangible investment. It has been a perfect storm for income-producing, commercial real estate."
The commercial real estate market has in many respects mirrored the national and global shift that the pandemic has placed on not only the workforce, but on customer habits and expectations.
For example, the pandemic forced the world to shift to working online in home-based offices. This reaction to COVID-19 also rippled into the commercial real estate industry as TOK brokers also saw a significant decrease in office leasing. However, Wilson said projections show office leasing will see a shift toward a positive return as the COVID-19 vaccine allows the workforce to move back into office spaces.
He noted that such projects like The Knolls, a stunning, newly constructed, 61,330-square-foot office space at the Snake River Landing in Idaho Falls will realize strong leasing as tenants who had transitioned to working from home move operations back to the office spaces and out-of-state businesses look for the kind of construction and amenities offered with this kind of project.
Additionally, the pandemic transitioned customer shopping habits with a near 33 percent increase in online shopping up over 2019 shopping preferences. According to DigitalComerce360.com, "Online sales hit $791.70 billion in 2020, up 32.4 percent from $598.02 billion in the prior year, according to Commerce Department figures. That's the highest annual online sales growth of any year for which data is available."
Brian Wilson noted that in response to the increase in online shopping, Idaho Falls could see an Amazon warehouse and distribution center in the near future.
"Amazon is already a force," Brian said. "They will support other businesses such as UPS and FedEx in the East Idaho area."
He added that TOK is seeing the same kind of interest in warehouse and distribution centers in Wyoming and particularly in Montana — two states TOK also serves.
More about TOK
TOK rebranded in January 2020 from the more formal Thornton Oliver Keller who has operated the firm for more than 30 years. According to tokcommercial.com, the brand refresh embraces the name already used frequently by commercial real estate professionals, clients, and business and community leaders — TOK.
Brent Wilson and his brother Brian joined the firm in 2016 as Idaho Falls-based brokers. In November 2020, TOK Commercial announced that Brent was selected as the firm's newest partner. Brent's partnership was "an important milestone in establishing TOK Commercial's long term growth plan in Eastern Idaho and exemplifies the firm's commitment to create meaningful career opportunities for the many talented people who work at the company," a news release said.
Brent has more than 16 years of experience in real estate and was recognized as one of Idaho's Top 10 Commercial Real Estate professionals. He has extensive experience representing developers, property owners, investors and tenants including Developers Diversified Realty, Woodbury Corporation, Ball Ventures, Costco Wholesale, Walmart, Panda Express, Cricket Wireless and Dutch Bros. Coffee.
In November 2021, TOK Commercial announced that Brian Wilson was awarded the Certified Commercial Investment Member designation by the CCIM Institute. The designation represents commercial real estate's highest standard for professional achievement and is the industry's most elite credential for commercial real estate investment, a TOK news release said.
TOK Commercial — with offices in Idaho Falls, Boise, Pocatello, Twin Falls and Coeur d'Alene — is Idaho's largest full-service commercial real estate company and offers clients brokerage and property management services.
The Idaho Falls office is located at 1135 Pier View Drive and can be reached at 208-227-8148.