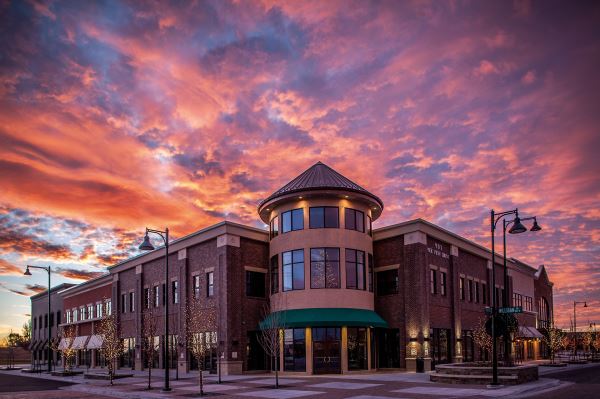 Centrally located for convenient regional access, Snake River Landing (SRL) is a 450-plus acre master-planned community along Interstate 15 and the Snake River in Idaho Falls. A mixed-use development, SRL brings together local and national offices, specialty retail shops, restaurants, apartments and homes. SRL also features planned areas for civic uses, medical services, large-format retailers and more. Check out some of the amenities of this area enjoyed by the many businesses and residents that call SRL home.
Food & Libations
SRL is home to the area's favorite dining destinations. Sports fans love game-day excitement and classic wings-and-beer menu at Buffalo Wild Wings. Mackenzie River Pizza Grill & Pub is a pizzeria chain from the Big Sky state of Montana, serving creative pies, sandwiches and burgers in a casual, rustic setting. Next door is Tap-N-Fill, a growler house and tap room featuring the area's widest selection of beer. Offering a true local's dining experience, Stockman's Restaurant is a chophouse with a rustic flair serving up steak, seafood and hearty desserts. 
Shopping & Playing
One of east Idaho's favorite specialty treat home decor and jewelry shops, Love at First Bite Mercantile is located right along the river in SRL. This locally-owned shop recently expanded their footprint to include a nostalgic candy section, soap and lotion lines, along with their gourmet foods and kitchen products. 
Bill's Bike & Run has a bike for every rider, every occasion and every condition—a child's first strider bike, a BMX single gear for the serious racer, a full-suspension mountain bike for the downhill daredevil, a super lightweight full-carbon road bike for the weekend cyclist, commuter eBikes and more. Bill's has been in the Idaho Falls community for over 70 years and relocated to SRL in 2010 with the intent of providing a safer, more bike-friendly environment for customers visiting and test-riding at the store. 
Trails, Water & Parks
SRL features award-winning amenities including an over 4000 square foot pier overlooking the Snake River at Milligan Park. The Central Valley water feature, a series of waterfalls, streams and 3.5 acre lake with three stunning water fountains, runs along one of the many trails in the planned 6-mile trail system perfect for walking, running and biking. While privately owned, these trails are open to the community to enjoy. Construction on the new Heritage Park is underway near Sunnyside Bridge at the southern end of SRL The City of Idaho Falls and the local Idaho Falls Rotary Club is involved in completing this unique park for public use. 
Whether you are looking to live, work, shop or play, we invite you to join us for life on the river at Snake River Landing. 
For More Information 
Snake River Landing
208-557-5300
Bill's Bike & Run 
208-522-3341
Buffalo Wild Wings 
208-528-9453
Love at First Bite Mercantile 
208-522-7788
www.loveatfirstbitemercantile.com
Mackenzie River Pizza, Grill & Pub 
208-932-2987
Stockman's Restaurant 
208-552-6500
Tap-N-Fill 
208-524-4577