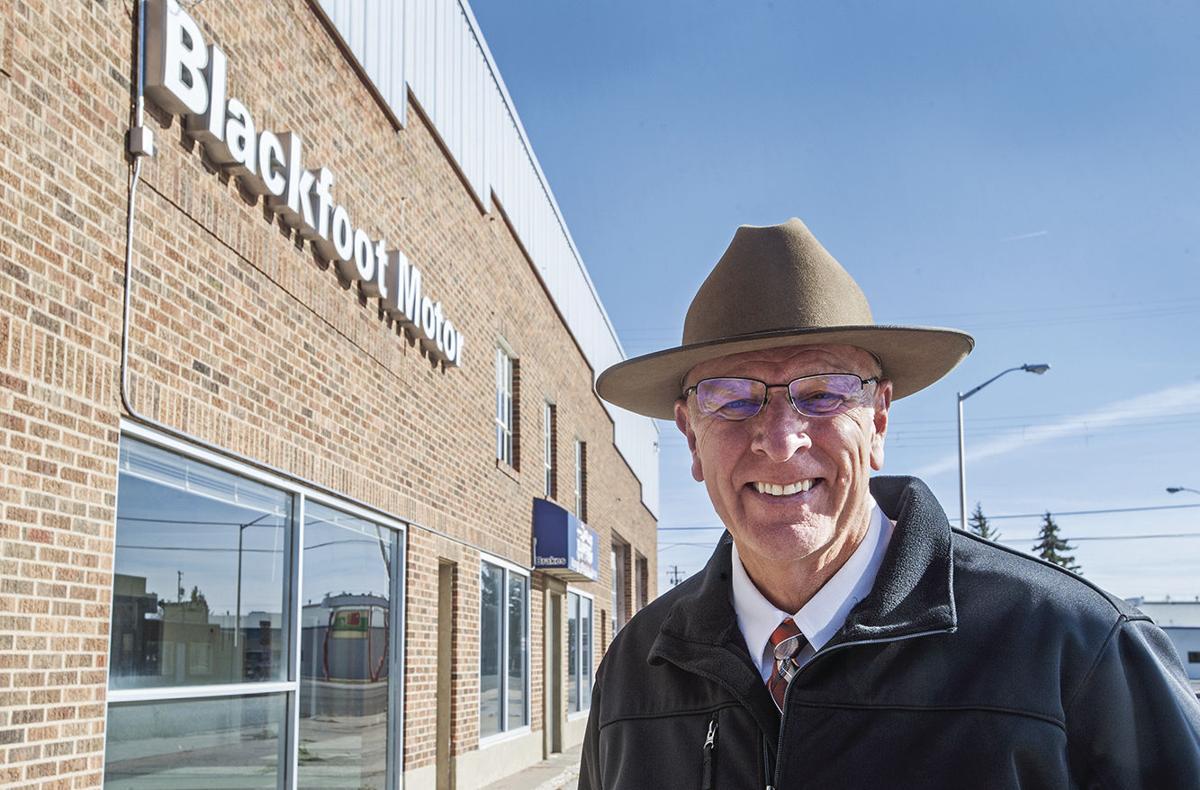 BLACKFOOT — It's been roughly five years since Blackfoot has had a movie theater of its own, but thanks to experienced theater owners Kent and Ingrid Lott, and the combined efforts of many local organizations, that's going to change soon. And some think a new theater could be the start of more good things to come to Blackfoot.
The Lotts are going to open the Blackfoot Movie Mill, a new seven-screen movie theater that will show the latest films using cutting-edge technology, as early as June. It will be housed in the former Blackfoot Motors building on Bridge Street in the downtown area.
"I'm thrilled," said Blackfoot Mayor Paul Loomis, adding that a theater has been among residents' most frequent requests.
 He said the Greater Blackfoot Area Chamber of Commerce, city of Blackfoot, Blackfoot Urban Renewal Agency, Bingham County, Regional Economic Development for Eastern Idaho (REDI) and even Bingham Memorial Hospital (BMH) have all had a hand in the project that started about eight months ago.
"It's really been a team effort," Loomis said, adding that the organizations worked together to answer the Lotts' questions and help make the project viable for them.
And that successful effort could lead to even more growth in the future.
"With this new development project, chain eateries that have previously discussed starting up in Blackfoot, have renewed interest and are planning on locating in this new 'entertainment district' creating an eat, play, and stay destination environment in the City," according to a news release from the Greater Blackfoot Area Chamber of Commerce.
The Lotts, who own the Paramount Theater and Centre Twin in Idaho Falls, say they have been looking at different options for expanding their family business for a while, and they finally settled on Blackfoot.
"This building really is perfect for what we want to do (and) with no theater in Blackfoot, it really is an ideal situation," Kent said.
The project almost fell through after BMH purchased the property ahead of the Lotts, but hospital officials agreed to sell it when they learned of their plans.
"They have been fantastic to us," Kent said, adding that the hospital could see the value the theater would bring to the community.
Jeff Daniels, former CEO of BMH, says economic development and a strong community are important to the hospital.
"When I learned what the intentions were for the property, we knew we wanted to help by making the property available for sale again," Daniels said in a statement submitted to the Journal. "We are happy that the Lotts were able to bring this together. It will be a great thing for the community."
The Lotts plan to remodel, expand and equip the former Blackfoot Motors building in the months ahead, and Kent said they will be able to do so for roughly 25-30 percent of the cost of building a new facility. That significant reduction in startup costs could go a long way toward helping the business become successful.
"We're very confident that this will work," Kent said.
They've also purchased some equipment from other theaters that have closed, including the Plaza Twin Theater that used to be located in Blackfoot, and will incorporate it into their new theater, Kent said.
In addition, the Blackfoot Movie Mill will offer laser projection technology for a brighter and clearer picture and 7.1 surround sound, which few theaters in the state have, Kent said.
"We'll have bragging rights in Blackfoot, which is awesome," he said.
The Lotts also plan to make the theater economical for families, charging $7 for adults and $5 for children and seniors as well as matinee events.
In addition, Kent said they plan to offer concessions at reasonable prices.
"I am not a believer in a $12 bottle of water," he said.
While the theater will focus mostly on family-friendly films, Kent said they may offer some of the more mild R-rated movies, like war films, as well.
"We look at why a film is rated R," he said, adding that they won't offer anything that's too hard.
Kent hopes the theater will help bring more restaurants to the area and make it a destination where people can come to watch a movie and get a bite to eat.
"We want people to stay in Blackfoot," he said.
Jan Rogers, CEO of REDI, personally, thinks Blackfoot is ripe for growth.
"I've always felt, since I've been in the region, that Blackfoot is a gem," she said, adding that it's located between two major cities, is close to the freeway and has the potential to draw people from throughout the region.
Loomis agrees.
He said they have had several business inquiries recently.
"They key is (people are) starting to recognize the strategic and economic value of the location of Blackfoot," he said.